BCA Use Bus Advertising To Promote The College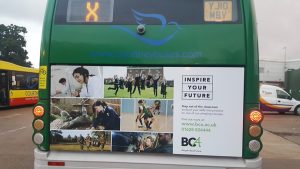 BCA booked a number of buses to help promote the college in the Maidenhead area.
Bus advertising is like a mobile billboard and helps a business promote their message to a very wide audience on a repetitive basis.
Courtney operate a number of buses around the Maidenhead, Wokingham and Bracknell areas so if you have a business in these areas and want to get your message across, what better way is there?
If you would like to find out more about how Bus Advertising can help your business and achieve your advertising goals, please call the team on 01256 767837.